Cross-connection control and reclaimed water use administration
BackTrack is designed for administrators of cross-connection control programs and staff for use in a multi-user database environment. It offers unique features and functionality designed to support workflow and productivity, including automation of test notifications, digital document management, and other workflow enhancements.
In addition to tracking annual backflow device certifications, BackTrack also monitors potable water service and non-potable site inspection deficiencies. This ensures compliance with even the most demanding cross-connection control programs.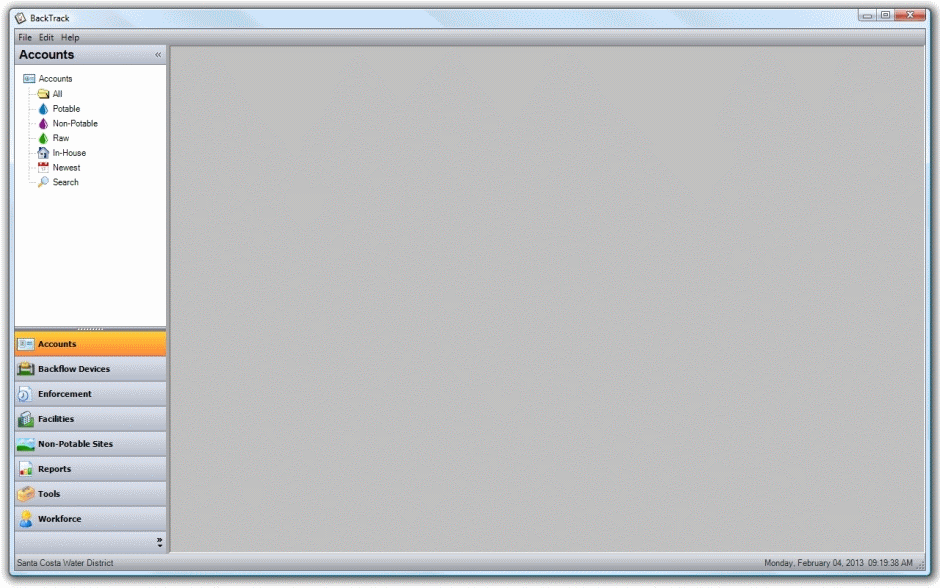 Datasets are displayed in grids for ease of use and are arranged in the following categories:
Accounts - Potable and non-potable/reclaimed water service account records
Backflow Devices - Backflow device records
Enforcement - Backflow device testing, water service and non-potable site inspection records
Facilities - Group water service account and backflow device records together
Non-Potable Sites - Manage non-potable/reclaimed water usage by grouping water services together by physical location
Reports - Generate various standard reports, including annual summary report
Tools - Manage access control, application settings and maintain document templates
Workforce - Backflow device tester, non-potable site supervisor, cross-connection specialist and water service inspector data tables
When used in conjunction with an optional billing system interface, your customer information is always up-to-date. Special mailing addresses can override billing system values for annual notices and letters.
System Requirements:
Microsoft Windows 7 Professional or later Operating System
Microsoft .NET Framework 3.5
Microsoft SQL Server 2008 R2 or later database environment